Canadian Government Launches COVID-19 App
The Government of has launched the Canada COVID-19 app for iPhone and Android, which is designed for you to stay informed about COVID-19 in Canada and determine what actions and next steps you should take.
Recommendations are personalized and based on your personal risk factors. You will receive timely updates with important news and alerts from Canada's Ministry of Health. Recommendations and content are automatically updated based on the latest guidelines related to COVID-19.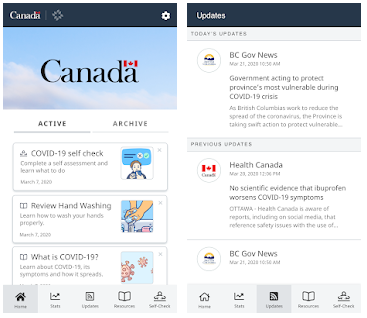 POSTED: 2020-04-02

A Toronto area web design company
© Copyright 2020 Mocoda Interactive. All rights reserved.
Web Design Toronto, Georgetown, Grey Highlands, Wiarton: Mocoda Interactive
Mocoda Interactive, Web Design, Graphic Design, Photography, Social Media, Search Engine Optimization, Local Search Solutions, and Web Hosting. Serving the Greater Toronto Area and the world from Grey Highlands Ontario Canada.Grey Highlands is a municipality in the southeast corner of Grey County, Ontario, Canada that includes Artemesia, Ceylon, Eugenia, Euphrasia, Feversham, Flesherton, Kimberley, Markdale, Maxwell, Osprey, Priceville, Singhampton. Grey Highlands is central to the Blue Mountains, Collingwood, Hanover, Guelph, Orangeville, and Owen Sound.