New Bing Logo Features Smooth Curves
Microsoft seems to be working on a new logo for its Bing search engine, which seems to be part of the larger Fluent Design rebrand within Microsoft.
The new Bing logo keeps the branded lowercase 'b', but no longer has sharp corners and adopts a much curvier design. They have also introduced some very subtle gradients giving it some depth. This change is very reminiscent of the style used for Office for Mac icons (back in 2011). Although the new logo isn't significantly different from the existing Bing logo, we believe that the old sharp edges have given way to a sleek, classy update that we like.
Microsoft is yet to officially announce the new Bing logo, the company seems to be testing the new logo with a small portion of users and has been spotted in the wild.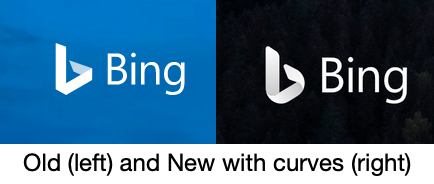 POSTED: 2020-04-06

A Toronto area web design company
© Copyright 2020 Mocoda Interactive. All rights reserved.
Web Design Toronto, Georgetown, Grey Highlands, Wiarton: Mocoda Interactive
Mocoda Interactive, Web Design, Graphic Design, Photography, Social Media, Search Engine Optimization, Local Search Solutions, and Web Hosting. Serving the Greater Toronto Area and the world from Grey Highlands Ontario Canada.Grey Highlands is a municipality in the southeast corner of Grey County, Ontario, Canada that includes Artemesia, Ceylon, Eugenia, Euphrasia, Feversham, Flesherton, Kimberley, Markdale, Maxwell, Osprey, Priceville, Singhampton. Grey Highlands is central to the Blue Mountains, Collingwood, Hanover, Guelph, Orangeville, and Owen Sound.